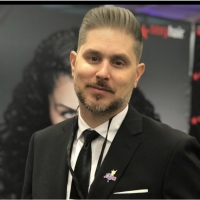 Alan Bailey
Barber
Alan Bailey is a Barber with 14+ years of experience in men's haircutting and facial grooming. He is also a Platform Artist and Educator with 2 years expierence traveling through North America displaying his many techniques and styles infront of students and professionals in the industry. Some of Alan's work has been featured in industry magazines and social media forums such as Modern Salon Magazine, Angeleno Magazine, Locale Magazine, Easy Reader Best of the Beach Winner for Best Barber, Barbershopconnect, Behind The Chair, Barbertalent, and Stylistshopconnect just to name a few. Alan is someone who takes pride in his work no matter what service is being provided. His attention to detail and execution on what the client wants is what seperates his haircuts no matter what style from other barbers. 
I look forward to meeting you or continuing to provide you with great service as well as great haircuts!!!!
See you soon, 
Alan M Bailey
Cancellation Policy
If you are running late please contact your stylist immediately. If you need to cancel or reschedule please do so by logging into your Salon Monster account and clicking on "My Appointments" where you can cancel, reschedule and view all of your appointments. Please review your stylists cancellation policy prior to cancelling.